Star Clippers
Dining Onboard Star Clippers
Star Clippers cruises serve up three meals each day in the beautiful main dining room. Breakfast and lunch are served buffet-style with all of your favorites prepared fresh each day to keep you happy and healthy during your Star Clippers cruise vacation. The dining experience extends into dinner with a daily five-course menu taking guests from soup to dessert with thoughtful dishes and delicious, often local, ingredients.
Beyond the main dining option, your choices are a bit limited but you can get a great early bird breakfast in the lounge. Snacks and sandwiches are available in the evening at the tropical bar and late night snacks are served back again in the lounge each night.
Piano Bar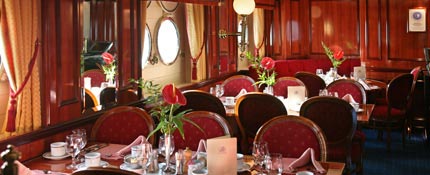 Early or late risers can enjoy a limited, continental breakfast in the Piano Bar. Midnight snacks are also found here for those enjoying a late evening of entertainment and socializing.
Tropical Bar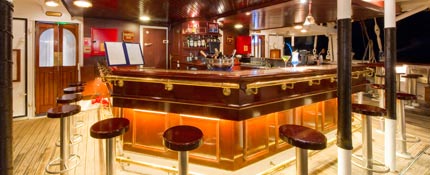 Once a week alfresco dining for lunch is on the menu, weather permitting. Late afternoon snacks including finger sandwiches, fruit, cheeses and more are served up daily to tide you over until dinner.
The Main or Clipper Dining Room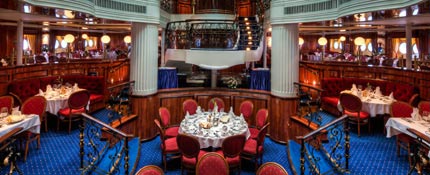 The Main or Clipper Dining Room hosts breakfast and lunch buffets as well as dinner. The daytime buffets include dish specific stations such as egg and omelet and lunchtime carving stations to a variety of tasty self serve choices. Dinner, while more traditional in style and choices is still an affair to be remembered. Once seated by the maitre d' you will embark on your culinary 5 course journey complete with a palate-cleansing sorbet mid meal. Start with appetizers and work your way through to dessert.
All menus and dining times are subject to change without notice. Some venues are only available on select ships.