Star Clippers

Star Clippers Cruise
About Star Clippers
Star Clippers cruise ships are a sight to behold. Their masted sailing vessels offer the ultimate cruise experience. Reminiscent of true clipper ships, these three luxury sailing vessels feature teak decks, polished brass and all of the modern amenities that one would expect on a luxury cruise. The Star Clipper ships arrive into to exotic ports under full sail which is a true sight to see. Onboard, Star Clippers guests are treated to a world of informal elegance on ships that accommodate a maximum of 227 passengers, inviting a congenial atmosphere where many friendships are formed.
Onboard the Star Clipper ships guests will find a friendly crew, a relaxed atmosphere and exceptional service.The accommodations aboard a Star Clippers cruise feature staterooms with double beds or twin beds that can be converted to queen beds, televisions with DVD players, in cabin videos, direct dial telephones, private safe, a hair dryer and comfortable furnishings and a marble bathroom. The staterooms are decorated with soft fabrics, nautical prints and mahogany trim designed to recall their nautical heritage.
Dining onboard a Star Clipper ship is a culinary adventure. Guests can choose a continental breakfast or a full breakfast complete with a variety of fruits, bacon, sausage, smoked salmon, fresh breads and made to order eggs and omelets. Buffet lunches offer a variety of salads, seafood and grilled favorites. In the evening the gourmet menu includes the finest culinary presentations served by a gracious and friendly staff. The dining on the Star Clipper ships is always open. Guests are free to dine when and with whom they want. Formal attire is not required. Casual elegance is the key.
Guests are free to do as they please while onboard a Star Clipper ship. Listen to a live band, gather round the Piano bar with new found friends, or find a secret hideaway to relax with a good book. Take a dip in one of the pools or for and more unique experience, guests even climb the mast to one of the crow's nests for an incredible view. On the Royal Clipper the Marina Platform is lowered for watersports and diving.
Star Clippers cruises sail to many unique and hidden ports. They offer a number of itineraries ranging from 5 to 35 days. Their three ships, Royal Clipper, the Star Clipper and the Star Flyer, sail to the Caribbean, Northern Europe, Costa Rica, the Panama Canal, the Eastern Mediterranean, the Western Mediterranean, transatlantic sailings and even Grand Voyages ranging from 12 to 35 days. Call now or book online to receive exclusive rates, special deals and extra amenities on your next Star Clippers cruise.
Featured Star Clipper Cruises
Star Clippers' Cruise Ship Profiles, Deck Plans and Public Areas
Star Clipper Highlights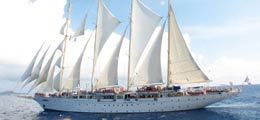 Masted Sailing Ships
The most unique highlight of Star Clippers is their ships themselves. The Star Clipper ships combine the romance of the grand age of sailing with the modern amenities of a luxury cruise ship. The Star Clipper ships offer the ultimate sea-going experience.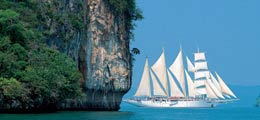 Unique Destinations and Ports
The Star Clipper itineraries sail guest to many ports off of the beaten track. In the Caribbean they sail to the Grenadines, Bequia and St. Vincent, Saba, Nevis and more. In Europe, sail into Amalfi, Corsica, Sorrento and Portofino. On a Star Clipper Cruise you will discover unique ports and private sanctuaries where adventure and memories will stay with you for a lifetime.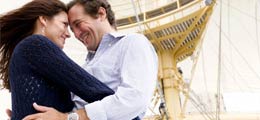 Romance
There is nothing more romantic than cruising beneath the open sails. The intimate Star Clipper ships are perfect for a wedding, honeymoon, anniversary or a romantic getaway. Relax on the ship's netting with the sea beneath you as you sail to romantic ports throughout the world.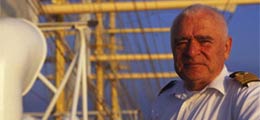 Exceptional Service
With a maximum of 227 guests the experience of sailing on a Star Clipper cruise is like sailing on your own personal yacht. The gracious and friendly staff is there to attend to your every need and desire and to pamper you in a relaxed and unhurried atmosphere.