Uniworld River Cruises
Dining Onboard Uniworld Cruises
Uniworld dining options include a main dining area with several options for snacks and lunch items to enjoy throughout the day. The main restaurant offers an award-winning culinary experience with a staff devoted to exceeding your expectations. Expansive yet thoughtful breakfast and lunch buffets offer up your favorites as well as local cuisine - all with fresh and locally sourced ingredients. These Zagat-rated restaurants will live up to a promise to create the ultimate dining experience for you and your fellow cruise travelers.
You can, of course, also get your favorite adult beverages as you enjoy the view from these elegant hideouts. With limited, yet exciting, menus that are consistently update to keep things fresh, the Leopard bar will certainly be your favorite spot to see and be seen onboard your Uniworld cruise.
The experienced chefs on a Uniworld cruise ship routinely find local sources for proteins, herbs, vegetables and other menu items with an eye on sustainability and a unwavering desire to provide and exciting menu sure to please all guests. Al Fresco dining under the sun or stars and other daily dining options are also available on your Uniworld River Cruise.
Sky Lounge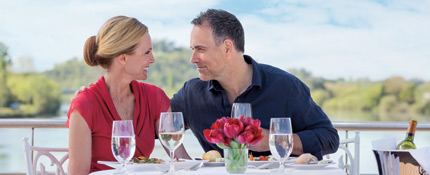 The exceptional views serve to enhance the delicious fare at this al fresco venue. On a temperate and clear evening enjoy a relaxed yet memorable dinner under the stars on the Sun Deck.
Captain's Club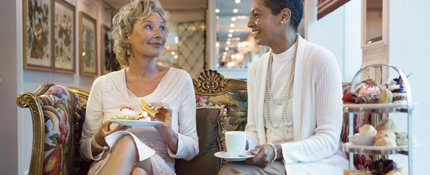 If you're an early or late riser and looking to grab a quick cup of coffee or tea along with light and fluffy pastries for breakfast this should be your first stop of the day.
Leopard Bar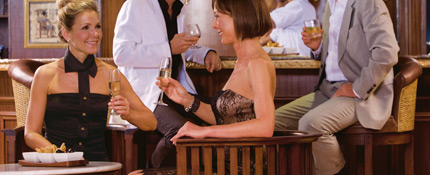 This lovely and interesting space is a great destination for a light lunch, regional delicacies and decadent desserts. On select evenings this gorgeous and sumptuous venue redefines its purpose to provide elegant white-gloved service for a limited number of guests. Aft facing and boasting an indoor pool on some vessels, the ambiance lends to the incredibly memorable dining experience.
Breakfast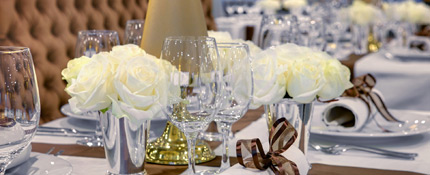 Breakfast is offered in the main dining room with open seating in a relaxed and casual atmosphere. The breakfast buffet offers guests a large variety of choices including fresh baked breads, rolls and Danish, bacon and sausage, eggs, cold cuts and cheeses, baked beans, made to order eggs, fresh fruits and other continental and European breakfast items. All are beautifully presented and are a delicious way to wake up.
Lunch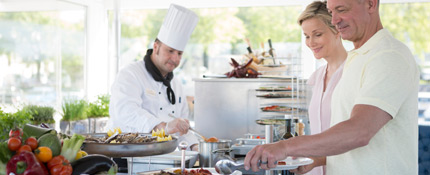 Lunchtime is another exciting event. The lunch buffet includes a variety of starters, a fresh salad bar, and a selection of homemade soups. Guests can also select the sandwich of the day, pasta, and a selection of entrees and vegetables. Delicious desserts and fresh fruits round out the meal. Whatever your choices your appetite will be satisfied and your palate thrilled with the options.
Dinner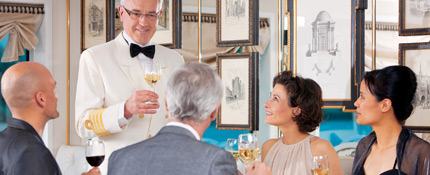 A sit down, multi course, dinner service is an adventure all its own. Familiar favorites are intermingled with local specialties prepared with freshly procured ingredients. A choice of appetizers is followed by one of the delicious homemade soups. The entrees normally include a pasta option, a seafood option, a meat or poultry option and a vegetarian option. Each cruise also features a special welcome dinner and a Gala Farewell Dinner. All meals are exquisitely prepared and the service exceptional.
All menus and dining times are subject to change without notice. Some venues are only available on select ships.