Uniworld Cruises

Uniworld Cruises
About Uniworld Cruises
Uniworld Cruises offers deluxe river cruises throughout Europe, Russia, Egypt, China, Vietnam and Cambodia. Uniworld River Cruises 20 river ships offer unique itineraries, discreet attentive service, gourmet cuisine and excellent value. Uniworld Cruises luxurious staterooms and suites feature all of the comforts and amenities of a luxury boutique hotel.
Guests onboard a Uniworld Cruise will enjoy fine European linens and duvets, a personalized pillow menu, cashmere/wool blankets, and handcrafted Savoir® beds. Other amenities include a flat screen television, large closets, a hair dryer, in-room safe, individually controlled air conditioning, direct-dial telephone and bottled water.
The beautiful marble bathrooms feature L'Occitane en Provence bath and body products, plush bathrobe and towels from Christy's of England. Suite guests enjoy additional amenities including a bottle of wine upon arrival, refrigerator, daily fruit and cookie plate, morning coffee and tea, continental breakfast, and free laundry services.
Uniworld River Cruises is proud to be honored as the only river cruise line to earn the "Top in Dining" award from ZAGAT. The gourmet menus, served by an attentive staff, feature many regional dishes made with the freshest local ingredients. Guests will savor the sumptuous breakfast buffets complete with Belgian waffles, made to order omelets, fresh fruit and more.
The lunch buffet features delicious soups and salads, carved to order meats and so much more. The elegant dinners are flawlessly prepared entrees and features prime quality meats and seafood, fresh produce and appetizing side dishes. Dinner also includes complimentary fine European wines, beer and soft drinks. Uniworld Cruises also feature a number of special culinary cruises on select departures.
A Uniworld Cruise welcomes guests into the world of history, art, architecture and culture in all of the destinations that they visit. To add a greater insight of the destination all Uniworld Cruises includes complimentary shore excursions lead by expert, professional guides. These guides provide an in-depth perspective into the destination's history and culture. Beginning in 2012 shore excursions will be offered at three levels: The "Go Active" program, the "Gentle Wallking" tour program, and the "Choice is Yours" tour program, all designed to allow guests to make their cruise experience fit their lifestyle. On board Uniworld Cruises the Signature Lectures series feature programs highlighting the history, politics, and cultures of each destination visited.
Uniworld Cruises feature river cruises in Europe, Russia, Egypt, China, Vietnam and Cambodia. Their European ships cruise on many rivers including the Rhine, the Danube, the Rhine, the Moselle, the Seine, the Elbe, the Saône, the Rhone and the Waterways of Holland and Belgium and the Duoro River. The Russian River Cruises sail on the Volga and the Neva rivers. Their Egypt cruises feature the Nile River. In Asia, Uniworld Cruises sail on the Yangtze River in China and the Mekong River in Vietnam and Cambodia. Uniworld Cruises offer over 120 itineraries ranging from 7 to 31 days.
Call now or book online to receive exclusive rates, special deals and extra amenities on your next Uniworld river cruise.
Featured Uniworld Cruises
Uniworld Cruises Highlights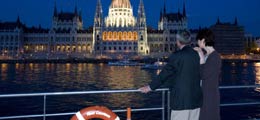 Unique Destinations
Uniworld Cruises offers deluxe river cruises throughout most of Europe as well as Russian river cruises between Moscow and St. Petersburg. They also offer river cruises on the Nile River in Egypt, on the Yangtze River in China and the Mekong River in Vietnam and Cambodia. These exceptional itineraries allow guests to explore these destinations and to learn about the culture, history, art and architecture that make these destinations so unique.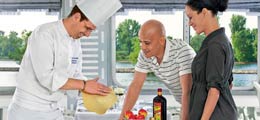 Dining
Uniworld's Epicurean Adventure Program features special culinary cruises highlighting the wonderful wines offered in the many regions that they sail to. Special events on these culinary cruises include a special food and wine paring dinner, a culinary demonstration and tasting led by a master chef and an exclusive shore excursion to a private wine tasting.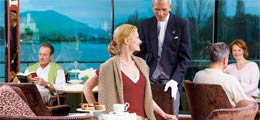 Exceptional Service
On a Uniworld Cruise guests are greeted by a warm and attentive English speaking staff offering an uncompromising level of service. The exceptional personal service offered by Uniworld Cruises has many distinctive awards including Condè Nast Traveler's "Gold List" in 2008, 2009, 2010 and 2011.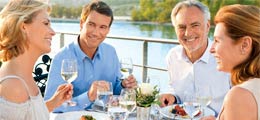 Multi-Generational River Cruise Programs
Uniworld has developed a unique program designed to make travelling on a river with your family convenient, educational and fun for family members of all ages. Some of the features include special children's menus, special ship tours, onboard games and movies and excursions that will be enjoyed by children and adults alike. These kids programs are offered on select sailings during prime summer vacation months.