Golf Vacations
Golf Vacations
Featured Golf Packages
A golf vacation is an excellent way to get that adventure you're in search of while making your destination one of the top golf courses in the world. These expert planned trips visit the home of golf in Scotland, some of the oldest courses in Ireland and what is widely considered to be one of the best golf courses in the world. From these pre-arranged tours to a custom package that perfectly suits your needs, choose the golf vacation package of your dreams.
The history of golf dates back hundreds of years to the Scottish players who invented the sport we now know and love. Imagine taking a trip back in time, playing on the courses they created, with the equipment they used and taking in the history and memorabilia that together create the worldwide phenomenon known as golf. You can do that on your golf vacation or you can choose to stick with the golf technology and equipment we've developed since that time. How you celebrate the sport and use your time on this amazing trip is entirely up to you.
Featured courses included the legendary links at The New Course, the stunning greens of Royal County Down and many more courses from St Andrews and beyond. You'll tour amazing sites straight out of golf lore like the oldest golf club factory in the world, the famed British Golf Museum and so much more. Your tour includes exclusive opportunities to go behind-the-scenes of your favorite sport and learn from some of the experts responsible for its success.
Your golf vacation is sure to be an enjoyable experience from the first hole to the last. We know your time is valuable and your expectations are high and that's why so much work goes into properly curating the golf vacation packages we know you're going to fall in love with. Explore the golf vacation options below, pick your dream golf trip, pack up your clubs and dive head first into the history of one of the most amazing sports ever created by man.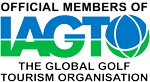 Golf Vacation Highlights